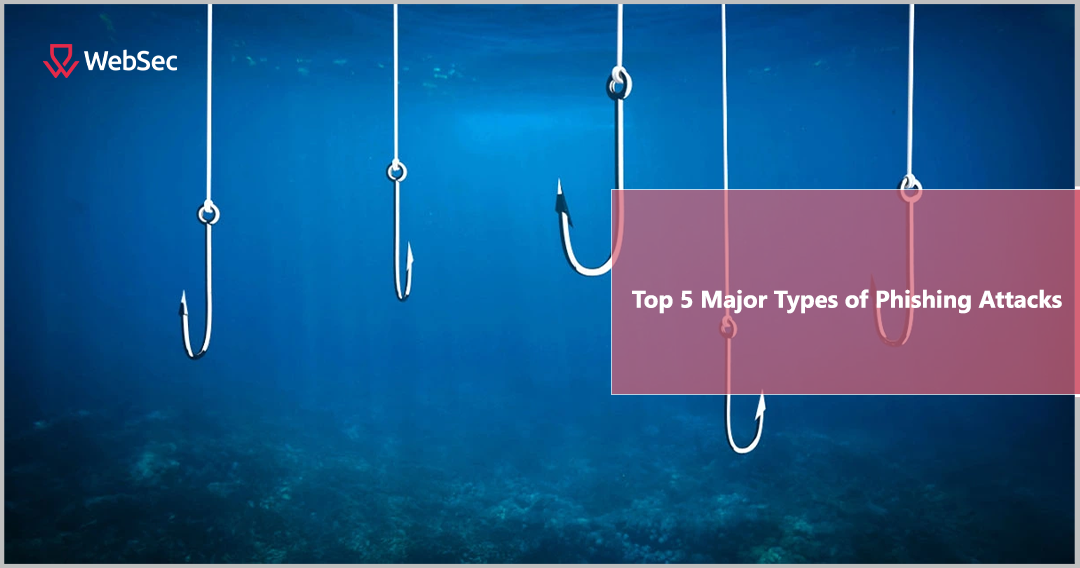 Phishing refers to fraudulent emails or messages that trick the receivers into divulging sensitive information (personal, financial, security, or business data) or taking actions that compromise their security. Cyber malicious actors send messages pretending to be trusted persons or entities.
The primary objective is to manipulate users, making them perform actions like installing a malicious file, clicking an 'infected' link, or giving out important details.
According to the Internet Organized Crime Threat Assessment (IOCTA) 2021, there was a significant increase in phishing and social engineering during the COVID-19 pandemic. Phishing and social engineering remain the main vectors for payment fraud, increasing in volume and sophistication.
5 Types of Phishing Attacks and How to Prevent Them
There are various types of phishing attacks - depending on how experts choose to classify them. Different sources have unique ways of doing the classification. This article focuses on the five types you need to know.
To effectively protect your organization, you need a good understanding of how phishing works. And learning the primary ways cybercriminals carry out phishing attacks will enable you to institute robust preventive measures.
1. Email Phishing
This is also known as Normal Phishing or Deceptive Phishing. It involves malicious cyber actors sending bulk emails to users to trick them into performing specific actions. In this type of phishing, criminals impersonate legitimate organizations and attempt to steal users' sensitive information or lure them into tapping 'infected' links.
They use fake domains to launch attacks. They add or replace characters in popular domains or use established brands' names as the email username. For instance, "amazon.com" can be spoofed as "amazion.com." An email receiver that fails to look closely may not notice the difference.
And with a message and Call-to-Action that mimic those of Amazon, unsuspecting users can easily be tricked into thinking the email is indeed coming from the brand. In addition, many phishing emails use a sense of urgency or threat to 'bully' users into complying quickly without authenticating the message.
For example, Paypal fraudsters might launch phishing attacks telling potential victims to take the required action within a time frame or face severe penalties if they fail to comply.
How to Prevent Email Phishing: The first step to preventing every phishing attack is educating your staff. Humans remain the weakest link when it comes to wading off cyber attacks. Adopt an excellent cyber security education policy to ensure every employee has up-to-date information on phishing.
The strength of Email Phishing lies in the inability of users to spot fake domains. Inspect every link and look for generic greetings, typos, and misspellings. Experts recommend not clicking links in emails, especially from unknown sources. Instead, open a new window and type in the link.
And, of course, know that legitimate businesses will not threaten you or give instructions with a sense of urgency. Be careful and thoroughly inspect every email before taking action.
2. Spear Phishing
Whereas regular phishing aims to deceive many victims, spear phishing targets a particular individual or company. Spear phishers put a lot of work into personalizing emails and using specific information to lure the receiver into thinking the message comes from trusted sources. Often, this is done by impersonating an employee, supplier, or contractor.
How to Prevent Spear Phishing: Criminals rely on what they know about their target organizations to carry out attacks. This type of phishing can be avoided by discouraging employees from posting sensitive personal or corporate information on social networking platforms.
3. Whaling
This is similar to spear phishing in that 'phishermen' send personalized emails to their targets. But whaling targets top executives instead of targeting any employee in an organization. Malicious actors spend a lot of time studying their targets, analyzing their routines, mapping their relationships, and planning attacks.
How to Avoid Whaling: Educating top officials is the fundamental way to avoid whaling. In big organizations, top executives are always busy. As a result, they do not prioritize attending cybersecurity training with lower employees.
To avoid whaling, top managers should make time for training and use good anti-phishing software. In addition, consider getting rid of the ability to authorize significant payments through email.
4. Clone Phishing
This typically happens when a legitimate email from a brand is cloned shortly after a user receives it. A criminal replicates an email and substitutes the link with a malicious one. The duplicate, malicious email is always nearly identical and usually states that it is being sent as an updated version. This is just an attempt to lure unsuspecting users into performing specific actions.
How to Avoid Clone Phishing: Do not click any link when you receive duplicate emails. Go to the company's official website directly or contact them. Reputable brands send messages twice on rare occasions.
5. Smishing and Vishing
This is a type of phishing attack that involves using regular phone communication methods. Smishing involves sending fraudulent SMS messages, while vishing uses phone conversations to deceive victims.
A typical example of a voice phishing scam: a malicious actor disguises as a scam investigator for a financial institution, telling victims that their accounts have a problem. The attacker proceeds to request payment card information to verify their identity or move money to a secure account.
Vishing scams may also involve automated phone calls pretending to be from a legitimate organization, telling the receiver to provide personal details.
How to Avoid Smishing and Vishing: It is not normal for financial institutions to send messages or call customers asking for their details. Disregard such requests and contact your bank.
Conclusion: Why is Ethical Phishing Important?
Phishing is a major cause of security breaches. And this trend is expected to continue. You need to implement cutting-edge preventive measures to protect your company and avoid any type of phishing attack.
Ensure your employees are properly educated and prepared to prevent attacks. No matter the software solutions you have implemented, your security framework could be very weak. You will spot and fix weaknesses with ethical phishing before a real hacker exploits them.
We can help you conduct ethical phishing! Here at WebSec, we have been in the business of assisting organizations to strengthen their security via ethical phishing. We have a team of dedicated experts to analyze your business and deploy ethical attacks to help you know how weak or strong your systems and employees are. Contact us now!